Apr - 27
2014
Surface to In-Seam Drilling Technique
New autonomous directional drilling generation of machines, tools, methods and processes by mechatronic robots. Environmental Impact Studies [EIS] and Project Justifications vs Rehabilitations.
https://cadsolid-engineering.com
FIG 1 [Click on the Image to enlarge]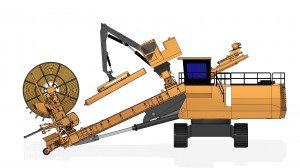 FIG 2 [Click on the Image to enlarge]
The above FIG 2 designed survey planline comes from the proven civil technology "HDD for Rivercrossings, or the so called Trenchless- or NO-DIGTechnologies".
Very succesfull introduction and continuous improved from begin of 1980, the first Dutch Europe Engineered Vehicle "Maxi-RIG" was operational in 1983, and with the designed "Pull Back While Reaming" [PBWR] tools pulled the first Gaspipeline through the pilot predrilled hole under an historic canal in Leiderdorp, the Netherlands without damaging by digging or dredging the waterway dikes and shores.
Below the TV news about a successful HDD water pipe-line under an dike, road and greenhouses, by drilling with an "Maxi-RIG" ,Mud-Recycling Systems and Tools designed by Cornelis (Kees) W. in 't Hout R&D Project Engineer and build with pipeline & cable contractor Van Eijk Bedrijven Gouda, subsidiary of work-company Visser & Smit Hanab which belongs in that time of the Dutch Royal Volker Stevin Group [now VolkerWessels Group].